Platt Park was originally a section of South Denver, Denver's first attempt at an exclusive suburb. John Fleming, a young entrepreneur, moved to Colorado after his successes in the Pennsylvania oil fields. Fleming purchased 70 of South Denver's best acres in 1881. Almost immediately, he sold off 30 of those acres to be developed by the Denver Circle Railroad. In the center of the remaining 40 acres, he constructed his mansion at the expense of $30,000. The last 35 acres were sold as residential real estate developments bearing his name.
The city of South Denver had a rocky beginning. There was a lack of mass transit available, as well as a water shortage owing to the disrepair of the city's water works. However, the citizenry was very active politically. They continuously voted for bond measures and city improvements. However, after the economic collapse of 1893, the city was a sitting duck for their larger neighbor, the City and County of Denver. The voters of South Denver agreed to annexation under one stipulation, the city had to remain non-drinking or "dry".
The people of South Denver had already purchased the Fleming mansion in 1890, after Fleming's retirement to Arizona. The majestic home was put into service as a library, jail and meeting center. The grounds surrounding the home were initially named Fleming Grove, however, this name would change to Platt Park in 1897 after the annexation of South Denver to the City and County of Denver. The park would be a memorial to James Platt, a politically active Denver citizen who had drowned near Georgetown in 1894. The Fleming Mansion still stands. It has seen a colorful history, being a meeting place and civic building for most of its 128 years. The Park People, a local non-profit working to save and maintain historically important destinations, hopes to convert the space into their headquarters.

James Platt's widow, Sara Platt Decker became an important Denver heroine in her own right. After Platt's death, Sara married Judge Westbrook Decker in 1899. He died a short three years later. However, by this time she was already a famous figure across America. A long-time suffragette, Mrs. Decker was instrumental in prompting the men of Colorado to be the first to offer women the vote. She was also the founding member of the Woman's Club of Denver, a platform that made it possible for her to serve on many governmental boards. Sara had her sights set on being the first woman to be elected to Congress. Sadly, on a trip to California, she suddenly became ill. She died in 1912. As a beloved member of the Denver community, she was the first woman to lie in state at the Capitol. In her honor, the new Carnegie library under construction in Platt Park was named the Sara Platt Decker Library. The library is still open today and is a beacon of knowledge for the Platt Park neighborhood.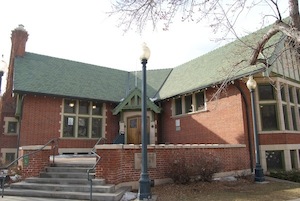 Decker library in Platt Park.
Just a few blocks from Platt Park is the shopping district, affectionately known as "Old South Pearl". Once a vital streetcar stop, the area had been home to grocers, butchers, milliners and a movie theater. There was a slight decline in the second half of the 20th century as Denver locals flocked to outlying suburbs, however, the small downtown is again bustling. It is a destination for foodies, shoppers and wine aficionados. There is a weekly farmer's market throughout the summer months, as well as a popular art walk every third Friday. The homes in this area are the definition of quaint and charming. The architecture that is most prevalent is craftsman style bungalows, Denver squares (four square) and an occasional Victorian. There has also been a surge of new development, as some of the original homes were unsalvageable. Among these new homes are a fair number of ultra modern buildings.
If you would like any further information on the Platt Park neighborhood or any other Denver real estate, please contact Vintage Homes of Denver.