Arapahoe Acres was the dream-child of Edward Hawkins, a native of Denver and a graduate of both East High School and Colorado State University. After graduating from CSU (then called Colorado State Agricultural College) in 1924, Hawkins moved to Chicago. Once in Chicago, he was employed by Home Builders of America as a building superintendent. While working and building in the greater Chicago area, Mr. Hawkins would become enamored with Frank Lloyd Wright and his Usonian architectural style.

After the bombing of Pearl Harbor, Hawkins and his wife returned to Denver. With his experience in home building and other construction projects, it was natural that Ed would establish himself so in the Denver real estate market. Between 1942 and 1949, Hawkins designed and built 35 Denver homes. In each of these, he incorporated many of the modern innovations that he had seen in Chicago. One of these new techniques was prefabrication. Hawkins retooled an old streetcar barn in Lakewood to construct his prefab homes and windows.

In 1949, the challenge of creating an entire Denver suburb was impossible to resist. Hawkins located the 35-acre parcel between Englewood and Denver and purchased it for $5250.00. The area was the perfect location, as it had been growing exponentially since the return of the America's fighting men. New services were being provided, including phone lines, water works and bus services to help the area sustain the incoming residents.

The newly home GI's, coupled with the release of once rationed building materials and the invention of new materials, caused an influx of homes throughout the United States. In an effort to curb shoddy construction methods and promote new products, the Revere Copper and Brass Company joined forces with the Southwest Research Institute to promote a new standard in home building. Their goal was to meld more efficient building with these seemingly space age ideas and design. Architects and builders were encouraged to participate in the program, and therefore, benefit from the local and national publicity provided by the program sponsors.

Edward Hawkins, wanting to promote his new subdivision, enlisted the help of Eugene Sternberg, an architect who specialized in the International Style, that was already a program participant. Sternberg was born in Czechoslovakia and had recently immigrated to Denver via London. He was the first faculty member at the University of Denver School of Architecture and Planning. He believed that the implementation of modern materials and techniques would yield economic and socially responsible housing.

Once working together, Hawkins and Sternberg's plans were quickly approved by Revere. Unfortunately, the two men had one vital disparity in their beliefs. Sternberg believed that low-cost, high efficiency building was paramount. Hawkins was more interested in modern design and new techniques, while not being consumed by the aspect of affordability. After their model home sold for a higher price than Sternberg had agreed upon, the men ended their partnership.

Sternberg continued to design and build Denver homes. He worked the the former Mile High Cooperative and the Rangeview subdivision in Littleton, CO. However, most of his later work was for institutions, such as hospitals and municipal buildings. He designed Arapahoe Community College in 1965.

After Sternberg's departure, Hawkins was free to build more lavish examples of modern architecture. After a dispute with the Englewood Fire Department, the subdivision was allowed to construct its serpentine streets, courts and maze-like byways. The new Denver homes were at the forefront of the modern movement, using new polymers, plywoods, and plastics in the interior spaces. The newest of appliances were installed as well as plenty of the easily identified Revere copper. Concrete and flat roofs kept each design precise and razor sharp, aesthetically speaking.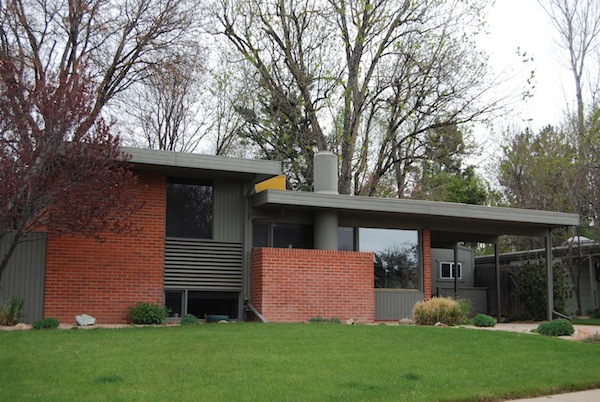 Arapahoe Acres, Denver Home
Each home was carefully placed upon the lot in relation to the curving streets, giving each home a private, park-like enclave. The use of "Hollywood" walks lowered the typical curb height, lending a clean view from street to home. Landscaping was essential to the continuation of Hawkin's vision. Each planting was placed deliberately to enhance the home and not block the impressive mountain views. In the 1960's, many Arapahoe Acres homeowners commissioned Stanly Yoshimura to construct remarkable Japanese gardens around their iconic Denver homes.

Today, Arapahoe Acres is a protected community of mid-century modern enthusiasts. An intriguing group of artists, authors, musicians, and architects call the area home. While renovations do occur, they are done with the utmost care to preserve the integrity of the home's original appeal and design. The Arapahoe Aces Historic Preservation Network is an organization made up of Arapahoe Acres residents whose common goal is to protect what is unique about the neighborhood. There is also a yearly home tour.
The Arapahoe Acres neighborhood is bordered by Downing to the West, Bates to the North, Dartmouth to the south and Franklin to the east.
If you are interested in the seeing available Denver homes in the Arapahoe Acres neighborhood, or any other Denver real estate, please contact Vintage Homes of Denver.